Sydney's Most Exhilarating Indoor Paintball Arena
For the FINEST experience in indoor paintball skirmish, Spitfire Paintball and Go Karts boasts the best in Paintball experiences as you dart and slide around our custom Urban Warfare environment. Strategically set out and planned – our Field provides the ultimate in Fire Fights as the best team wins.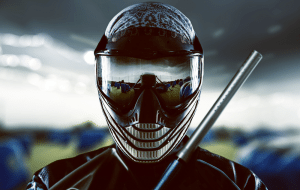 Our field has been strategically designed to give opposing teams the best chance of success and defeat through tactical advancements and team work.
Our Urban Warfare field is unlike anything in Sydney, featuring Police Cars, a Bank, Buildings and Street Settings, the fire fights are as epic as they come as you battle the Bank Robbers, take control of the houses or fight it out in a siege.

Spitfire Paintball & Go Karts have recently converted our Paintball Fields into dedicated Reball Fields.
Reballs are Paintless Paintballs, and provide the full Paintball game experience without the oily mess. Our Reballs, introduced with the assistance of Reball Australia, utilise the original and best Reball product, designed in Europe, to exactly replicate a Paintball and use the same equipment and Paintball Guns to give the exact same adrenaline pumping games and experience, but without the oily mess and dirty experience of traditional Paintball.
Sounds good? Why not pair it with another awesome rush of adrenaline with our incredible go kart racing experience?
Exclusive Paintball Field Hire – Unlimited Paintballs
We are proud to present and be the ONLY field in Australia to offer an unlimited Paintball Package, whereby you get the entire Paintball Fields for a private battle zone, for an entire fire fight to yourself.
What Now?
Contact us either via phone (02) 8765 0039, email (enquiry@spitfirepaintball.com.au) or use the link below to make your booking.
What you need to know!
ALL PAINTBALL PLAYERS MUST BE 12 YEARS OR OLDER.
Bookings are essential.
Enclosed Shoes must be worn.
Zero Alcohol &/or Drugs.
Photo ID Required by ALL Players.
Info for Exclusive Field Hire:
A non-refundable deposit of $250 (1 Hour)/$500 (2 Hours) is required.
Price includes up to 12 players. Additional Players can be included at the listed price.
Bookings should be made ASAP, this package is extremely popular and sell out fast.
Info for Per Person Paintball Packages:
A minimum of 8 people is required to open a field. If you have less than 8 people, we may be able to join you to an existing booking.
A deposit of $25 per person in required to secure the booking.
All Players require a $9 Annual Access Pass.
Weekday Special – 200 Free Paintballs on Bravo & Charlie Packages Monday – Friday
Additional Paintballs available onsite:

$40 for 200
$75 for 500
$139 for 1000
Additional Safety Equipment Available for Hire/Purchase:
Hire:

Chest/Back Protection (Free for females)
Knee Pads
Neck Protection
Long Pants

Purchase: